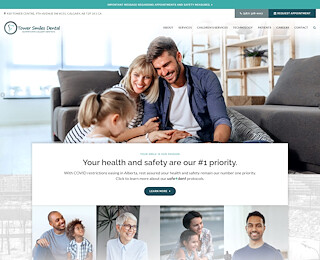 If you're in search of the best Calgary dentist downtown, look no further than Tower Smiles Dental. Dr. Eli Markovich and his team offer a full range of dental services for you and your family. For downtown Calgary dental patients, Tower Smiles is centrally located at the Tower Center Professional Building. The location is convenient for busy businessmen and women as well as families, with ample parking space and easy city transit access.  
Located in the Tower Centre West, Tower Smiles is always pleased to see new patients and offer the best possible dental services to you. We strive to make your visit comfortable and welcoming. From the time you first walk in and are greeted by the Tower Smiles team, we aim to make you feel like a part of our extended family.  
Accessibly from all points in downtown Calgary, Tower Smiles provides the following dental services:
- Restorative Cosmetic Dentistry including white fillings, dental crowns, bridges, porcelain veneers, teeth whitening and cosmetic tooth bonding.
- Family Dentistry designed to educate and provide dental services to the entire family. We take family dentistry serious and are passionate about the oral health of every member of your family.
- Hygiene and Preventative Hygiene treatments including education in order to maintain good oral health in between visits.
- Implants and dentures as part of our complete prosthetic program designed to replace missing teeth and maintain even spacing while creating a beautiful smile.
- Root Canal Therapy is performed on location for the convenience of our patients.
- Routine Teeth Cleaning recommended twice yearly as part of a good oral health program, not only beneficial for appearance, but to provide the best possible health for teeth and gums.
- Children's Tooth Sealants designed to cover and seal young teeth to keep out germs and food that can often cause tooth decay.
- Emergency Medical Care for the convenience of downtown Calgary patients who may be in need of emergency treatment for broken teeth or oral injury.  
Calgary Dentist Downtown
Dr. Eli Markovich & Tower Smiles Dental
(403) 262-3826
430 Tower Centre #131 9th Avenue SW Calgary
Alberta
T2P
1K1
View Larger Map